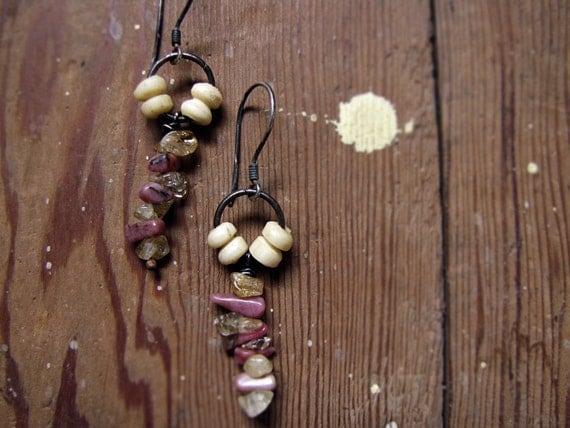 I'm trying really hard to challenge myself to 'go simple'. One of the weirdest things about what I do is I hardly ever wear what I make. Practically every time someone asks me what I do and I say 'I'm a jewelry maker' and then no, I'm not actually wearing anything I made today. Because I almost never do!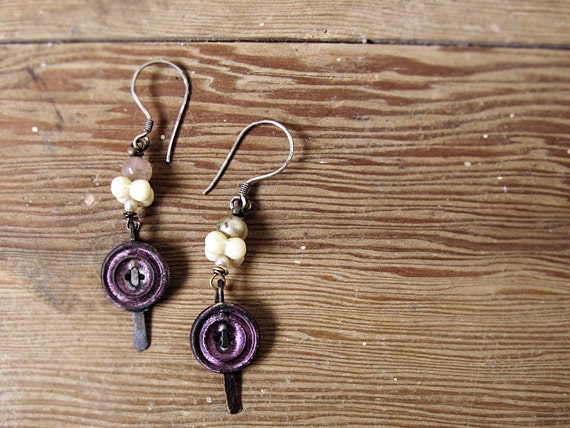 I do have jewelry that I've made that I wear, but thing is- it's not the sort of thing you find in my shop. It's simple, small, pretty rustic with not much going on. Like the stuff here.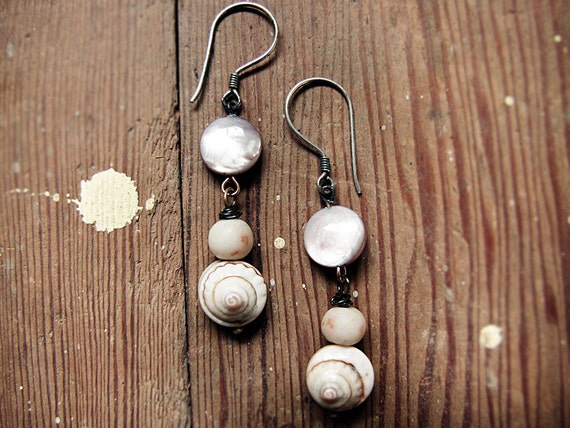 So I've done these. Many's the time I've been looking through Etsy's jewelry categories and seen earrings that are literally just a bead and a hook. Or a necklace that's a bead and a chain. And I think 'that's cheating!' Because there's no skill involved- I'm not trying to offend anyone there, I think you'd have to have a bit missing to suggest there's a lot of hard thinking involved in that sort of design. You don't have to think of a design at all, you just shop around for some interesting beads (if you're one of the better ones who makes an effort) and job's done. The ones who do it properly utilize pure metals, quality findings, interesting gemstones. And despite that my muse looks at it and scoffs, it's perfectly good jewelry. Why do I have this atttitude that all jewelry should involve hard thinking, more than 10 minutes of work and complex design? Simplicity is the ultimate sophistication, says Leonardo DaVinci. (Apparently he was some kind of expert.)
So I took Leo's advice but I ramped it up a bit to keep the muse happy and put as much effort in as I could, making each and every bead and charm a unique, interesting and characterful element. Above is the most simple I could manage- 1970s banded orange agate (from one of those carved stone Inca necklaces) and hammered mauve tone wire. I haven't listed them yet because frankly, they make me uneasy. It is just a bead on a hook.
But I'd happily wear them, so what's my problem? It's like I think everything worth doing is complicated, unique and lengthy. And that's no way to run a railroad.

On a completely different note, the boards I shot those earrings on are actually what lay sleeping underneath the god-awful carpet in my new house.
Here's a shot of the master bedroom which shows the carpet that was throughout- lounge, hall, master and second bedroom. Nice. Please do click the picture so you can enjoy it on a large scale. The house was built in 52 (or 55, depending on who tells the story) and was given 'updates' in the 1970s, so there's also a rather smashing kitchen and bathroom treatment which I'm okay with because it's clean and neutral. This carpet was neither of those.

Initially I planned to just lay new carpet, but the cost of that was a little shocking (and I didn't see the point in blowing the budget only to get the cheapest stuff we could find). When I saw the floorboards, it occurred to me we'd be mad to cover them up. Oregon timber with the most beautiful grain, like salmon. They're nice and thin too, so the visual line pulls your eye from the lounge through the hall and into the second bedroom, making the place feel longer.


Removing that carpet not only instantly raised the value of the property, it also made the whole house feel bigger and brighter. And because I'm an artist and we're used to having this kind of vision, I wasn't surprised at all, I knew this potential lay on the other side of that carpet. Before, I had 'accepted' the space as the closest thing I'd found that would suit my needs, now I love being there, I'm looking forward to moving in just for the pure pleasure of being in such a light bright space.


Here's a shot standing in the master doorway looking toward the lounge. See there's some classic 1970s wall panelling, thank goodness they went for the classy option of stopping at dado height. It's real wood too, not the laminate stuff, so it looks all Scandi cool rather than trailer park kitsch. Taking that off would be a fuss and bother beyond the worth, and it will blend with my neutral decor later.





Lounge room free of carpet, ready to be sanded and sealed. What floor you say, all I see is a million dollar view!
Well quite. I washed the window after I took that shot- all that dirt is on the inside! I have to wait till the weekend for some fine weather, then I can wash the outside of the house. With a broom and hose, because I'm mad. Mad for housework!!