If you hang out on the forums or know someone who does then chances are you will have heard that Etsy has changed the default setting on their website, so that search results come up as 'most relevant' rather than 'most recent'. This is brilliant for buyers because it now means when you search for 'red umbrella' you actually get red umbrellas. This is not so brilliant for people who never really mastered relevant tagging (most Etsy sellers.) and completely un-brilliant for people who don't realise this has happened (a hefty portion of Etsy sellers).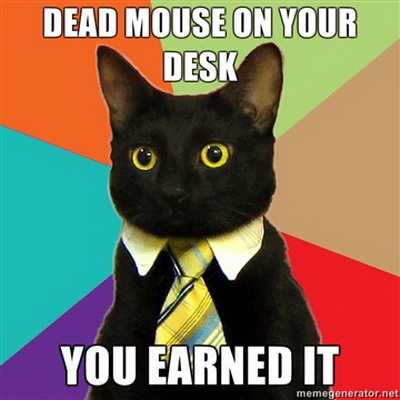 (Okay so I wanted a business cartoon but they're all so 80s and suck, and then I remembered business cat who I quite like (alot) so there you go. It's relevant-esty think this new search is great but most people are looking at it as if it IS a dead mouse. haha!)
When Etsy announced this last week, they posted a few quick
Storque
posts about titles and tagging and then -following the realisation made by the smarter forum monkeys that tag stuffing was the only way to get ahead- changed their tagging policy as well. They then waved cheerily and went to hide under the table and hum the theme to Care Bears in the hope of drowning out the clamorous din resulting from this sudden change of half the rules. And that was only from people who visit the forums- Etsy didn't send out letters to notify of this change, they just did it.
Admin have largely abandoned all threads, choosing instead to let the helper monkeys answer all the questions and quell rumours about what does and doesn't work. And because I've spent the best part of the last 2 weeks in the forums being one of those monkeys, I've gathered what I consider to be a helpful guide. So without further ado...
+++++++++++++++++++++++++++++++++++++++++++++++++
Sparrow's guide to being relevant!
(or how to be seen in the modern Etsy marketplace.)
(look I discovered the coloured text settings! weeeeeeee!!! ooooooh...

I bet these are hard to read.

)
++++++++++++++++++++++++++++++++++++++++++++++++++
Before I go into relevancy I want to get one thing clear- there is more to being seen on Etsy than relevancy!! I wrote a post about how you can improve other windows of visibility
here
- try to keep that in mind as well. No don't go reading that now, read it later. Read this now!
How relevancy works
(I know it's boring- you can skip this if you don't care but reading the instructions, really helps) - When people look for something on Etsy search now, the searchbot is returning the closest it can find to that query. If someone searches for 'sterling silver leaf pendant' the search bot is going to return everything that has those words in the title and tags. The more those words appear, the more relevant it thinks it is. If the title or tags matches the exact search (that is the words are right after each other like the search is) then it's even more relevant. But how the feck can you be sure people are using the words you use and vice versa?
Let's go deeper...
1. it's all in the title
I don't believe there's any one most important factor in relevancy, but a good title will definitely carry you far. When you list earrings for example, you can't just say 'earrings'. You can say 'pink earrings' but that's a bit generic- there are thousands of results for 'pink earrings' on Etsy's search. But if you say 'pink lampwork earrings' or 'rose quartz earrings' or even 'pink hoop earrings', you'll be doing better.
tea party
- pink lace earrings
Most of us sell unique items, and unique things can be hard to sell- no one can look for something if they don't know it exists. On the plus side unique means there's little competition- but you've got to be seen before you can be seen out-striding your opposition. You can still make a unique item easy to find, all you need do is narrow down what I call the 'everyday uniqueness' of it. There's very little in this world that is singularly unique- sooner or later there's something ordinary about it. I'm a pretty unique person but I'm also a woman, a redhead, an Aries, a human...all fairly ordinary things.
Making a title for the right buyer is another place where we meet our old friend 'Know Your Market'. Get inside the mind of the buyer- to want your item, what would they be looking for? If it's a pair of earrings with crosses hanging from them, are they earrings that will appeal to a catholic lady, or are they more gothic? Are they upside down crosses? They'll appeal more to occult people. Get the picture? Buyers will narrow down their search according to their desires, so you've got to be there to provide it, like a good butler who knows his master is thirsty before the master knows it himself.
Looking at the design of these earrings I could call them doily rosette earrings, but who's going to search that? Probably not many people. Doily earrings? I don't know if people will search that either. They're lace though, and pink, and earrings of course. All things people are likely to search for, perhaps all at once. So they're pink lace earrings! Now I'm settled on what I'm calling it, in we go with the typey typey.
Now, Etsy has put it out there that the first 3 words are the most important. Untrue. What they
should
have said was 'the closer to the start your keywords are, the more weight they carry'. The most important words in this listing's title are 'lace' and 'earrings', so I put those immediately after my arty title.
*


Pro tip
- The suggestions that pop up in Etsy search when you're typing are examples of things people have popularly searched for in the past, so clearly these are the terms people are using to find what they want. So if you're unsure what to call your item you can use the search bar to generate ideas.
Originally I had my item listed as doily earrings, but I wasn't happy with it. I went to etsy's search
and typed in 'doily' - sure enough neither earrings or jewelry came up as a suggestion. So I started searching 'lace earrings' and 'lace earrings' came up as one of the suggestions, showing people have searched for things this way. I added pink because there's a lot of results for lace earrings, and colour is something people are likely to add to their search. If someone searches doily earrings they still come up, so I'm covered there as well.
Pro tip 2
- If you sell multiples of things, it might be more beneficial for you to list them as individual listings rather than as having more than 1 available. This way you can give the same item (essentially) a different title and draw in a different crowd. For example, someone might search 'pink lace earrings' but other people might search 'pink doily earrings' or 'crochet earrings' - so if I had two or more of these to list I could get all those people. So if you have 5 different kinds of silver hoop in your shop or 12 different fingerless gloves patterns, add some keywords about their colour or style and mix up the order of the words a bit to cover your bases.
Pro tip
3
- If you've got a hard time of it trying to think of what to call your thing, look around in the shops of sellers who make similar work to you- what do they call it? (make sure they're doing well with views and sales and their term is searched for, no point learning from someone who's getting it wrong!)
that was a lot of learning - give yourself a rest with this hilarious moment of office humor. (click to enlarge.)
2. Categories matter
The category drop-downs (the 'what is it?' drop downs you fill out when you're listing) are
very
important in relevancy. Almost no guides to this stuff mentions them, but they are an important part of search. When you shop, you don't just enter 'earrings' and then sit there wading through 13,303941 listings to find something you like. (If you do, you gottalotta patience.) People are going to be specific about their search such as 'sterling silver earrings' or 'amethyst bead earrings' etc. Then
after that
they're highly likely to narrow down their search on the left side- from Handmade to Jewelry to Earrings... and then they're going to pick something from that (rather unhelpful) list of styles.
So when you fill out your categories, don't just think 'eh who cares' on the third category. I know they leave
much
to be desired, but work with them the best you can. I have the earrings above listed in 'fiber' because although I think fiber jewelry is stuff made from spun wool or felt, looking in the category itself it seems to be where 90% of the lace earrings live (second to 'dangle', which is a really vague and unhelpful term in my opinion). And technically crochet lace is fiber. You can mix your categories through different listings too if it's appropriate. If you're not sure where to put them, go to search and look for a similar item, then see where people are putting them.
3. description
The words in your description only matter if you care about Google- relevancy doesn't look at them. I know it's a butt pain along with everything else, but you
should
care about Google since it's what people find us with if they don't know what Etsy is. Back in '09 Etsy put out
a guide to SEO
and I did an easier to understand
SEO tutorial
in response (SEO is the techie code for 'how google finds your shop') so you can refer to those for all that stuff; you can also look in the Etsy
forums
.
One thing I didn't mention in my old SEO tute- If you have a link in your description that goes back into your shop, people are more likely to stay in your shop. This isn't anything much to do with relevancy, but once you are found you'd like them to stay awhile, yes? I found I've upped the traffic to my store front by having these 'click-back' links in my descriptions. Not all of my listings have them (more laziness/forgetfulness than anything) but when I do I switch it around, some times it's a link to my shop front, other times it's a link to a particular section. Sometimes on custom orders I'll link to my sold page to help people realise I can re-make some things.
Now on to
tags
! Tags tags tags. You
need
to have your tag phrases match the keywords in your title. If your keyword in the title is 'lace earrings' you
need
to have 'lace earrings' as ONE tag for your listing to even start being relevant. Tags really haven't been stipulated enough in most of these guides for my liking, they really are just as important as your title. A few days after relevancy was discovered to work better if you went against the tagging rules, Etsy changed their rules to allow tags of more than one word. Now you are allowed to tag your product for what it is. An evening dress can be tagged 'evening dress', a red balloon can be tagged 'red balloon'. Before it was considered tag stuffing and frowned upon, now it's a must-do. Go figure.
So- here's a close up of my tags on the earrings:
Don't worry about materials or styles or any of that guff- as far as I know, materials don't count for relevancy search and style attributes aren't being used yet. I'm not saying don't fill them out- definitely do! Materials can be included if someone uses advanced search and ticks the little box to say so, and since we're cracking open every listing to change tags and titles, you might as well drop in your style attributes while you're there- saves going back and doing it when they come in to use.
So- you can see the little coloured squares up there; the green blocks show where I've used two words as a single tag-
the same two words that sit next to each other in the title
. This is important- words next to each other carry more weight. If someone searches 'pink lace earrings' my listing is right on top (at the time of writing this!) - if they search 'lace earrings' I'll come in high as well, since I have a 'lace earrings' tag AND the words next to each other in the title.
The blue squares are showing you where I've put tags of other words that are in my title. The one that says 'doilies' has just been changed to say 'doily' so it matches up with everything else.
The pink and purple squares are highlighting where I've used the top two keywords of my title (lace and earrings) as many times as I can in my tags- repeating your keywords will make your listing more relevant. The searchbot will think 'they want pink lace earrings, and this listing has 'pink, lace AND earrings in it's title and several times in it's tags- I conclude it to be relevant!' Also by teaming 'lace' and 'earrings' with other words I'm covering myself for other titles people might search for, like 'pink earrings', 'crochet earrings' and 'lace jewelry'. (I'm not sure why, but I've noticed putting 'jewelry' in as a double tag as well as earrings/necklace/whatever is helping relevancy.)
If I wanted to get really on it, I could have 'pink lace' as a tag as well, but right now Etsy only gives us 13 tags so you have to make hard decisions on what's going to get searched and what can be left out. I have 'pink' a few times and 'lace' a few times too, as well as 'pink lace' in the last tag with another key word, so I think I'm well covered.
SO in conclusion, business
cat
sparrow sez:
+ keep your primary keywords next to each other in the title and have secondary keywords if you can
+ use your primary keywords as a single tag
+ repeat your keywords as many times as you can in tags
+ make sure your categories are filled out the best they can be
+ switch around titles and keywords if you carry multiple listings of a similar item
Other notes
: You will only have ONE result come up on the first page. There's some kind of magical do-hickey which ensures there's no more than one item on the first page by the same seller, unless of course the search is so narrow in result that it can't be helped. This is to ensure one or two sellers don't dominate the pile, so don't have a princess moment if you only see one of your sterling silver Dalek charms on the front page instead of the 12 you have listed.
Also remember that if you're number 5 most relevant for 'angel costume' and you can't figure out why the person ahead of you is more relevant- relax! It matters not. You're on page one, that's good. In fact if you're on page 2 that's fine too. Relevancy might determine where you show up, but it has nothing to do with the 100 different reasons why someone would pick your listing over another. Price range, materials, picture, etc- these all factors in being clicked. It's not the end of the road when you come up relevant, you have to be a stand-out example on that page so your photos have to be super-awesome. Don't rely on being just what the shopper was looking for!
I know it seems like a brain drain now, but once you do a few listings it'll become easier. Changing your titles or prices is made easier with the
express editor
over at Craftopolis, but you can't adjust your tags there- so you might as well crack open every listing. I have heard too that if you don't have the 'who made it' etc bit filled out then listing are overlooked. I don't know if this is gospel but do fill them in anyway.
A note on renewing-
it would seem now that search is by relevancy not most recent that renewing is pointless. Well yes and no. It's pointless to renew just to be seen- you can save that $1 a day or whatever it was you spent. BUT- renewing can sometimes help if you sell something that lots of other people sell too. The first 4 results shown in a search are most recent, so even if you wouldn't rank high in relevancy on a certain search, you will pop up there on most recent.
Do your listings a few at a time and don't panic about it. Generally speaking if your stats say Relevancy is in spot #6 or higher on your Etsy traffic sources, you're good. When all is said and done the best exposure you can give yourself is networking. Now is the time (if you're not all learned out) to go look at that forum post I linked to at the start of this article. It's all about using your Etsy shop stats (OH how I love stats) to find and develop the other ways people are coming to your shop.
So there you go! Any questions please do write to me and ask, either via email (from my
profile
) or Etsy convo. I'll try to help you as best as I can!
footnotes:

*There's a lot of talk going about that having arty titles like mine are no good- granted this may be true for hooking in Google, but in terms of search results on Etsy I find no problems. I've yet to experiment how things would improve (if at all) without them, because frankly I like my arty titles, it's part of my brand and part of my work. I'd rather work harder in other areas of the market to be able to keep them. If you're interested in learning more about why and why not, you can read my forum post on it here.